リーバイ・デクスター&グレッチ・ブラザーズ CD「オール・スルー・ザ・ナイト」

伝説のロカビリー・アイドルことリーバイ・デクスター(元リーバイ&ザ・ロカッツ)とジャパニーズ・ロカビリー界のレジェンド「グレッチ・ブラザーズ」による渾身の一撃!日本盤のみボーナストラック収録!

All Thru The Night...the song still stands up today !!
スマティ・スミス(ロカッツ)

I believe the Levi Dexter & the Gretsch Brothers to be the very best so far.
リーバイ・デクスター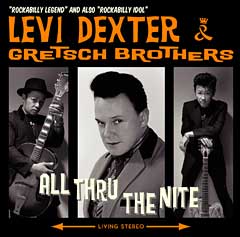 発売日:2013年6月26日
発売元:JOHNNY KOOL ROCKABILLY FACTORY
品番:JKRF-6121
定価:¥3,000+税

1970年代後半に伝説のネオ・ロカビリー・バンド「リーバイ&ザ・ロカッツ」を率い、ブライアン・セッツァーをはじめ80年代のロカビリー・リバイバル・シーンに多大なる影響を与えたリーバイ・デクスター。90年代に日本のマジックとのコラボレート・アルバムをリリースしたことが契機となり、2012年には9年ぶりの来日公演が実現。その公演をサポートしたのがマジックのサウンドメーカー山口憲一とサンドラディー日野勝雄からなるグレッチ・ブラザーズである。
来日中に敢行されたリーバイ・デクスターとグレッチ・ブラザーズのレコーディングでは、彼らのルーツとなるビンテージ・ロックンロールの数々が魔法のアレンジと共に強力なネオ・ロカビリー・チューンとして見事現代に蘇生。レコーディングにはジャパロカ・シーンの重鎮として今なお君臨するブルー・エンジェルより浦江アキコもゲスト参加。伝説のロカビリー・レジェンドであるリーバイ・デクスターとジャパニーズ・ロカビリー界のレジェンド達との奇跡のコラボ・アルバムはすべてのネオ・ロカビリー・ファン必聴必携!

収録曲:
01. 7 NIGHTS TO ROCK(Original Artist / Moon Mullican)
02. DOWN THE LINE(Original Artist / Buddy Holly)
03. RESTLESS(Original Artist / Carl Perkins)
04. TEDDY BOY ROCK 'N' ROLL(Original Artist / Crazy Cavan & The Rhythm Rockers)
05. SHAKIN' ALL OVER(Original Artist / Johnny Kidd & The Pirates)
06. OAKIE BOOGIE(Original Artist / Jack Guthrie)
07. YOU'RE MY BABY(Original Artist / Roy Orbison)
08. TIRED AND SLEEPY(Original Artist / Cochran Brothers)
09. WONDROUS PLACE(Original Artist / Billy Fury)
10. ALL THRU THE NITE(Original Artist / Levi & The Rockats)
11. EVERYDAY (Japan Only Bonus Track)(Original Artist / Buddy Holly)

初回プレス限定特典ステッカー封入!(下記2種のうちいずれか1枚付属。初回プレス盤が完売次第終了します。)
*Amazon販売分は全て通常盤のためステッカーは付属しません。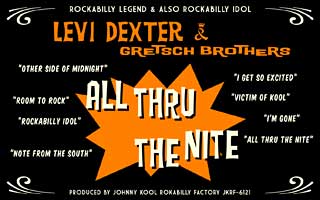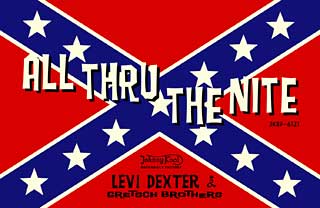 ---
オーダー方法

MAIL ORDER FOR INTERNATIONAL CUSTOMERS >>> Read Here!
---
NOTES FROM LEVI DEXTER
It has been 35 years since I first sang the song "All through the night" with Levi & the Rockats.
Many things have changed since then. CD's, computers, cell phones and many other things are now part of society.
I have not changed. I am the same now as I was back then. I have totally devoted my life to rockabilly music and lifestyle.
The wonderful fans I have around the world are a most special part of my life.
I have a special love for Japan and the people there.
It's been one of most special experiences for me to visit Japan and play for the audience there.
Now it is 2013 and I have had the special privilege of recording with the Gretsch Brothers.
A world class rockabilly band that also includes my rock brother Kenichi Yamaguchi who I consider to be there very best Gretsch guitarist on the rockabilly scene.
I always say "The best things are yet to come". I believe the Levi Dexter & the Gretsch Brothers to be the very best so far.

Love and best wishes, Levi Dexter

NOTES FROM SMUTTY SMIFF
All Thru The Night...
I remember writing that song ..when Levi and myself were living at our manager Lee Black Childers house in London around 1978.
We had just started playing some of our first shows around London.
To be recognized as something brand new in the rockabilly scene, we needed to be original and cutting edge..so we started writing our own songs to stand out from other bands at that time...''All thru The Night'' was one of them.
We performed it on TV on the ''Merv Griffin show''and ''The Midnight Special'' with Wolfman Jack hosting.
The song still stands up today !!

Cheers Smutty Smiff
---
INFO.
HOME